Time to Upgrade
Drupal 7 served our client, Towaway Express, we'll for many years. However, when it came time to upgrade, we sat down with the Towaway management team and did a thorough evaluation of their needs. The result was that WordPress could meet their needs as well as Drupal 8, but at a significantly lower cost. We love Drupal 8, but if it's not the right fit for the client, we're the first one to raise our hand and say, "Hey, let's rethink this." The result? A beautiful site with better navigation, responsive design, and SEO improvements all at a significant cost savings. 
Mobile First
Truckers generally do everything on their mobile phones. Towaway Express Inc. of Mechanicsburg, PA, a rapidly growing power-only truck supplier asked SI to "mobilize" their website theme. SI's user interface experts researched areas of the site that were most used by truckers and suggested a mobile design that would make it easy for truckers to apply to and/or contact Towaway. 
"We're all about our drivers, and thanks to the new mobile design, our drivers are finding it easier to contact us."  - Scott Salla, Vice President, Towaway Express Inc. 
If you're a busy trucker working on your mobile phone, which form would you rather fill out: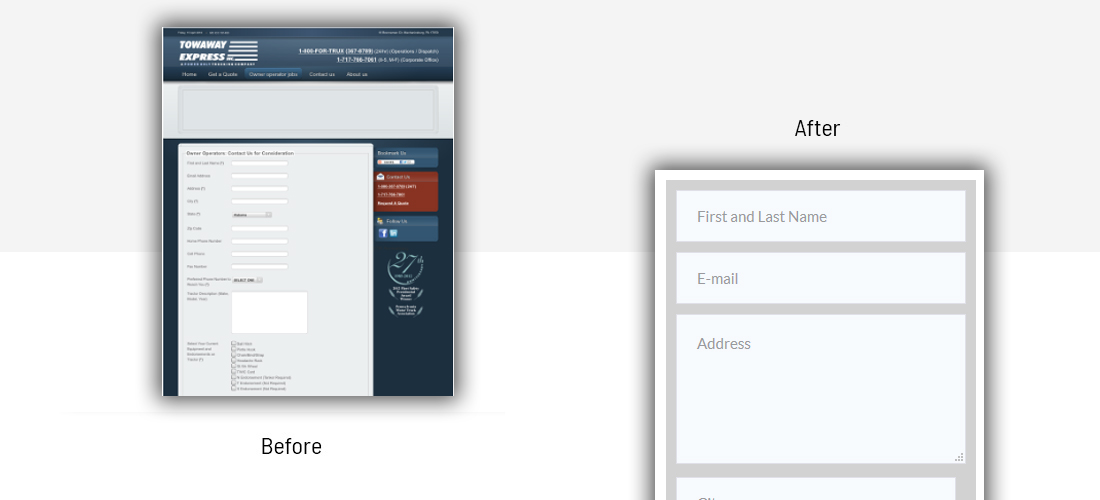 Simple Information migrated the site from Joomla to Drupal. SI also optimized other areas of the site for SEO (Search Engine Optimization). Finally, the design was upgraded and optimized for mobile devices. Traffic to the site has increased approximately 20% since going live.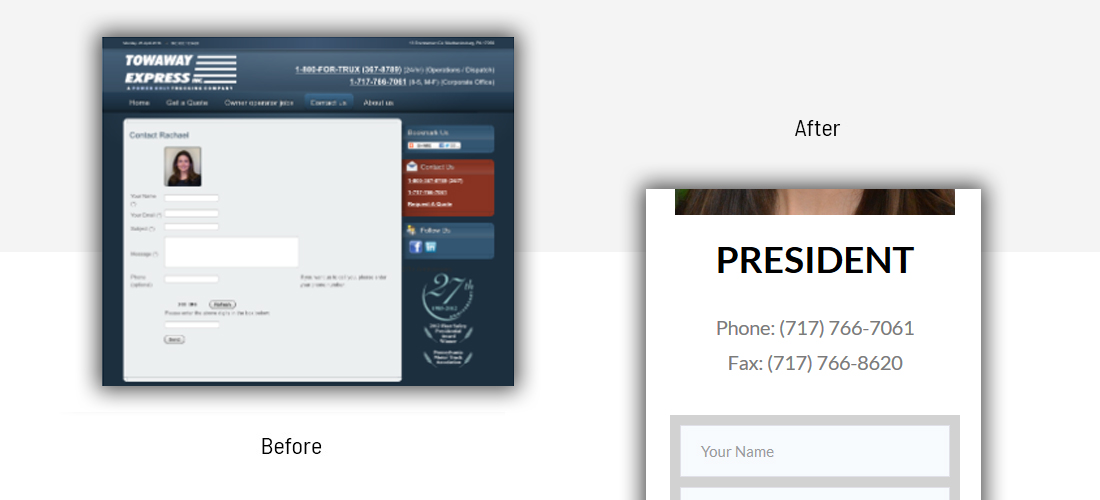 Since the upgrade and new design, Search Engine Rankings have increased (now rated first for their target keywords!) and users are pleased at the usability of the new site. Furthermore, the new platform, Drupal, has inspired them to add more user functionality. 
A summary of the Solution: 
Successful migration to WordPress from Drupal 7
Design upgrade including improved user navigation for the website and mobile responsive design. 
User form optimized for mobile devices